Upside Down Truck Looks Like A Moving Rollover
Rick Sullivan's upside down truck is so realistic looking that someone reported it as a rollover when he stopped at an intersection. When the county sheriff's office heard the description, they called him first before responding.
    "They asked if I had been at that intersection," he recalls with a laugh. "I was on my way to a parade."
    It's not surprising that the mistake was made. An actual rollover was how Sullivan got the idea for the one-of-a-kind vehicle.
    "We had to pick up a Ford Ranger that had turned over," says Sullivan, who runs a body shop with his wife, Kathy. "I found a junked Ford Ranger and already had an older F-150 parts truck to use for the upside down body."
    After stripping the Ranger down to the chassis, cab floor, dash and VIN number, he raised it 12 ft. in the air. Sullivan stripped the body off the F-150, turned it upside down and lowered the Ranger chassis into it, cutting away anything in the way.
    "We waited to cut the cab roof off until we had mounted the front cowl and cab corners to the chassis," explains Sullivan. "We wanted it to match the height of the chassis."
    Once the two were firmly attached, Sullivan installed the motor and other needed components. He then fabricated a hybrid interior, building around the original Ranger floor and dash. He reinstalled the Ranger seats and built a new bench behind them. He added false wheels to the front and rear wheel wells. He used 16-in. wheels in the front to maintain driver visibility and 20-in. wheels at the rear. He fabricated a new hood over the engine compartment and a "floor" panel behind the rear seat. Both are unobtrusive and below direct line of sight. The working wheels were covered with plain gray covers to help hide them.
    "Since the side panels are upside down, you have to open the doors by reaching down to the latch near the ground," says Sullivan. "People love having to bend down to open the doors. To get out, you push down on the inside latch instead of pulling up."
    Sullivan says he had a lot of help from friends and family. Owning a body shop also helped. He estimates the project took about 6 months and cost about $6,000.
    "It is street legal and fun to drive," says Sullivan. "The police absolutely love it.
    To see Sullivan's upside down truck on the road, check out the video at FARMSHOW.COM.
    Contact: FARM SHOW Followup, Kathy's Collision Center & 24 Hr., 8419 Katie Rd., Clinton, Ill. 61727 (ph 217 935-0044; sully44_444@msn.com).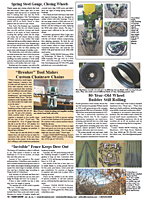 Click here to download page story appeared in.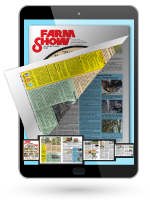 Click here to read entire issue