He Taps Walnut Trees To Make "Super Syrup"
"Black walnut syrup is liquid gold," says Michael Jaeb, owner of Simple Gourmet Syrups in Millersburg, Ohio. He sells the rare syrup for $15.75 per 8-oz. bottle and never has enough.
    Jaeb has been tapping the maple trees on his 55-acre Ohio farm for 25 years but didn't start his syrup business until 4 years ago.
    "I have a fair number of black walnut trees, so 3 years ago I tried tapping them and got just a small amount of syrup. This year I had 175 to 200 walnut taps and made five cases of 4 and 8-oz. bottles of syrup," Jaeb says.
    "It looks like a Grade B, dark maple syrup on steroids," he says. "It has a robust, earthy flavor that's a little smoky. People buy it because of the flavor and because it's so rare."
    Black walnut syrup demands a premium price partly because black walnut trees only produce about one-third of the sap maple trees produce. The sugar content of the sap is about the same – it takes about 40 gal. of sap to make 1 gal. of syrup.
    The biggest challenge to tapping walnut trees is the thick bark with deep ridges. Jaeb flattens an area with an ax before tapping the tree so the tap stays in place.
    One advantage of black walnut trees is that they can be tapped at a smaller size (8 in. dia.) and at a younger age (10 to 15 years) than sugar maple trees, which must have a 10 to 12-in. dia. that can take 25 years to achieve.
    Most of Jaeb's walnut trees are only big enough for one or two taps each, but he has one monster walnut big enough for four taps.
    One consideration in making black walnut syrup is that the trees are often highly prized for their lumber value, and tapping could detract from the commercial value of the logs.
    "If you are have large, high quality black walnut trees and are hoping to sell them for saw timber, you shouldn't drill holes in them for syrup production," recommends Michael Farrell, director of The Uihlein Forest – Cornell University's Sugar Maple Research and Extension Field Station in Lake Placid, N.Y.
    He discusses the finer points of producing syrup from black walnut and other trees in a new book coming out this fall entitled "The Sugarmaker's Companion", through Chelsea Green Publishing. It's the first publication explaining how to create a profitable business from the sap of maple, birch and walnut trees.
    Contact: FARM SHOW Followup, Michael Jaeb, 10336 Township Rd. 262, Millersburg, Ohio 44654 (ph 330 763-3137; www.simplegourmetsyrups.com) or Michael Farrell, 157 Bear Cub Lane, Lake Placid, N.Y. 12946 (ph 518 523-9337; Mlf36@cornell.edu).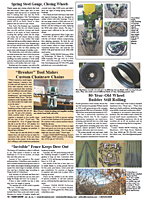 Click here to download page story appeared in.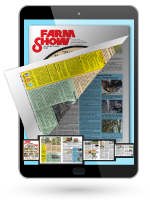 Click here to read entire issue