Jacked Up, 4-WD "Monster Mower"
Folks can't believe their eyes when they see this 4-WD "Monster Mower" garden tractor built by Tony Gernstl of Farmersville Station, N.Y. It rides on 44-in. high lugged wheels off a 4-WD "monster" pickup, with the driver sitting about 6 ft. off the ground.
    The 1980's tractor still has its original Briggs & Stratton 18 hp twin cylinder engine and 3-speed transmission. The axles came off a Suzuki Samurai SUV.
    "I built it using parts from 3 different Yard Machines that were headed for the junkyard," says Gernstl. "I drive it in parades and at farm shows and car cruise nights. It's fun to see the look on the faces of little kids when they see me drive by."
    He cut the axles down and made a suspension system similar to a Ford twin I-beam system, complete with radius arm-style linkage with coil overshocks. He rotated the tractor's transaxle 90 degrees and installed a sprocket on one of the wheel hubs, which is used to chain-drive both the SUV's driveshafts. He also replaced the tractor's original steering assembly with a heavier duty rack and pinion steering assembly off a Chevy Chevette.
    The rig is equipped with a unique hydraulic brake assembly that uses the rotor off a Yamaha dirt bike, the calipers off a Bombardier snowmobile, the hydraulic master cylinder off a Toyota Rav 4 SUV, and the remote cylinder off a Yamaha dirt bike. A small tank assembly feeds brake fluid through a hose down to the master cylinder. Pushing down on an aluminum pedal activates the cylinder.
    "I have to climb up one of the rear wheels or use a small ladder to reach the seat, but once I'm up there it's a lot of fun to drive," says Gernstl. "I bought some of the stuff I used to build it off Craigslist, but the rest is all pretty much second hand items.
    "When they first see it a lot of people want to know where the mower deck is. Others ask me how fast it'll go. When I originally built it I could go up to 25 mph, but that wasn't too safe so I geared it down and now the top speed is only about 15 mph."
    Both sides of the rig are equipped with 3-ft. lengths of curved stainless steel exhaust tubing, which Gernstl made out of handicap rails designed for toilets. "It sounds a lot like a Harley Davidson motorcycle. I think that's because the tractor is quite old, and its governor assembly has an erratic idle which makes it sound like the tractor is souped up," says Gernsti.
    He made the body by bolting together sheet metal off the 3 different Yard Machine garden tractors. "The sheet metal was in good condition. It saved me the hassle of having to repaint the tractor," notes Gernstl.
    Contact: FARM SHOW Followup, Tony Gernstl, 10310 Rt. 98, Farmersville Station, N.Y. 14060 (ph 716 676-2149; pull@localnet.com).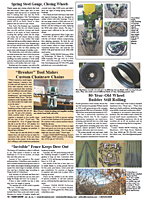 Click here to download page story appeared in.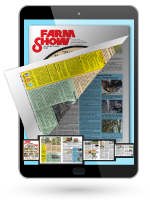 Click here to read entire issue