Replica Of World's First Bulldozer Was Built In Kansas
What's claimed to be the first bulldozer is on display at a park in Morrowville, Kan. It was built in 1923 on a Kansas farm using parts from a Model T, a Deere plow, and a windmill.
    The original tractor no longer exists. Duane Durst and his son, Frank, worked on the reproduction beginning late in 1984. The Fordson tractor with an oak board dozer was unveiled at a town celebration the following June. One honored guest was Earl McLeod, who designed the original machine.
    Durst says he felt it was important to tell "the rest of the story" and honor McLeod, whose work had been hidden in history.
    James Cummings of Morrowville gets most of the credit. When Sinclair Oil Company laid a pipeline from Wyoming to Missouri in the early 1920's, they used a WWI trencher to dig the trenches and horses with wood slips to fill them back in. The horses were on one side of the trench and a man was on the other hanging on to handles on wooden boards. The horses would pull the slip ahead and the man pulled it back until the trench was filled.
    When the crew crossed Cummings' fields, he questioned if there wasn't a better way. The foreman replied that if he had an idea, they'd try it the following Monday. Cummings recruited McLeod, who was taking correspondence drafting courses.
    "The dozer they built was lifted by a spring off an air motor windmill and a lever off a John Deere plow," Durst says. "The blade was made out of oak and reinforced with iron with a metal blade on the bottom. The frame was made from Model T parts."
    It fastened to the Fordson tractor with a drawbar pin in back and floating brackets on the front axle, which allowed the blade to be lifted up and down.
    "The first day it filled in 1 1/6th miles of trench which was far more than the horses could do," Durst notes.
    Cummings and McLeod were offered a contract to build several more dozens and eventually a metal grader blade was used instead of oak boards. The two worked in the oil business for 2 1/2 years until McLeod's wife died. He had two young children to care for, so he sold his share for $500 and returned to Kansas. Cummings went on to come up with other pipeline inventions, and became a wealthy man.
    For many years, a sign in Morrowville touted its claim to fame, but it bothered Durst that there wasn't a display.
    "I just made my mind that it should be done. I decided that the whole story needed to come out," says Durst.
    No one has challenged the "World's First" claim, he notes. "I was impressed with it, just the fact that the darn things worked and that a couple of country boys made it."
    Contact: FARM SHOW Followup, Duane Durst, 1722 King Rd., Washington, Kan. 66968 (ph 785 265-3159).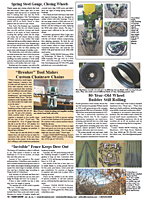 Click here to download page story appeared in.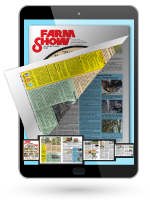 Click here to read entire issue