Tow-Away Skid-Mounted Fuel Tanks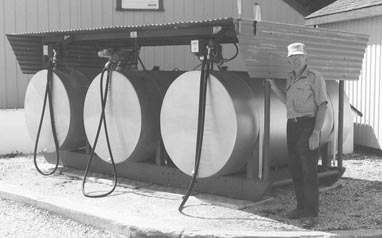 Lorne and Vic Bossuyt, Oak Bluff, Manitoba, mounted three 500-gal. fuel storage tanks -- one diesel and two gas -- on a steel skid so that the tanks can be quickly relocated in case there was ever a fire in one of their nearby buildings.
"We can just hook a chain to the skid and tow it away with a tractor," says Lorne. Each tank is equipped with an electric pump and hose. The pumps are turned on and off from a control panel in a nearby building. Underground wires connect the pumps to the control panel. "We always keep the power off except when fuel is being pumped into a tractor or vehicle. The wires are light enough that they'll break easily if we don't have time to cut them, and because the power would be off there wouldn't be any sparks," says Lorne.
They used an old semi truck frame to build the 15-ft. long, 5-ft. wide skid. The truck frame wasn't wide enough to accommodate the 7-ft. 2-in. long fuel tanks so they cut the cross members to weld in new material to widen the frame by 1 1/2 ft. The tanks ex-tend about 1 ft. beyond each side of the skid. They welded a hook onto each end of the frame. They also rounded off the ends of the frame so that the skid can be dragged in either direction.
The tanks ride in saddles made from flat metal and are covered by a metal roof that reduces evaporation caused by sunlight. They used 3-in. channel iron to make the roof frame and made the roof itself by bolting together big sheets of metal designed for culverts. Both ends of the roof were bent down and bolted to vertical steel pipes.
The skid rests on concrete pads designed for outdoor patios. The concrete pads keep the skid from sinking into the ground. There's enough room to walk between the tanks for maintenance or repainting.
"We've never had to move it, and we hope we never do," says Lorne. "The tanks are filled from the back or the rear. We had been using overhead tanks, which were difficult to fill. We also used three underground tanks but had problems with water leaking into the tanks, which caused damage to the fuel pump on our diesel tractor. We plan to build an-other skid with two tanks just for diesel fuel."