Casket Becomes Tribute To Man Who Loved Farmalls
FARM SHOW Magazine
» Casket Becomes Tribute To Man Who Loved Farmalls
Casket Becomes Tribute To Man Who Loved Farmalls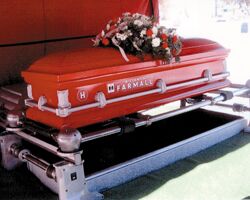 "I wish we could have a red casket for him," said Richard Jacobson while he was picking out a casket for his father, Truman Jacobson, a farmer who had loved Farmall tractors.
While standing next to a gray casket, Richard's sister Carol replied, "This feels just like the metal on a tractor after my husband gets through sandblasting it." When the funeral director returned, the siblings asked if they could paint the gray casket red. "He kind of swallowed real hard and asked where we wanted it delivered," Carol recalls.
Carol's husband Ronald runs a sandblasting and painting business so over the next couple days he and other family members and friends dismantled the casket, repainted it, and put it back together. They bought International Red paint from a shop that also sells IH decals.
Carol says that aside from the eerie feeling of having a casket in the shop, the process was simple.
Those who knew Jacobson were impressed with the casket; many were amazed family members even thought of the idea. "It was a wonderful thing in the end," she says.
Carol says they'd be willing to assist others with similar tractor-themed caskets.