CRP Clipper Designed To Cut Rough Ground
FARM SHOW Magazine
» CRP Clipper Designed To Cut Rough Ground
CRP Clipper Designed To Cut Rough Ground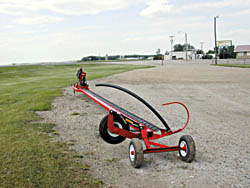 No washboard can compare to a field that's been in CRP for a few years. Try and clip it with a conventional mower, and you'll likely spend more time in the shop than in the field. That's where the new "CRP Clipper" from Faul Manufacturing comes in.
"Our 3-point mounted CRP Clipper is built to handle rough fields," says Albert Faul, owner of Faul Manufacturing. "It has a Schumacher Easy Cut hydraulic sickle drive with instant reverse to clear a choked sickle."
The CRP Clipper is patterned after a push-type front-mounted clipper Faul once owned. After making a number of improvements, including the hydraulic drive, his unit now comes in front and rear 3-point hitch mounts. When rear-mounted, it can easily be towed behind the tractor or a pickup with a receiver hitch for road transport.
Faul makes two standard models. The front-mount model is 30 ft. wide, can cut up to 20 acres per hour. Accessories, including a front mounted hitch, are extra. The rear-mount model is 25 1/2 ft. wide. The clipper also can be special ordered with cutting widths from 15 to 40 ft.
As larger units may require center supports, optional dividers are available to prevent material from building up on the supports.
The front unit can be ordered with solid caster type wheels or hydraulic wheels. Ground clearance with the solid wheels can be set from 4 to 13 in. The hydraulic wheels offer a clearance range of 4 to 24 in.
Rear mount units can clear the ground by up to 29 in. A larger optional wheel package can be added for ground clearance as high as 36 in.
"Some of my customers will use the CRP clipper to cut weeds that grow above sugar beets before the weed heads go to seed," says Faul.