Hunting Blind Looks Like A Round Bale
FARM SHOW Magazine
» Hunting Blind Looks Like A Round Bale
Hunting Blind Looks Like A Round Bale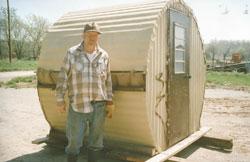 "Deere and turkeys walk right up and feed next to it with no fear," says Jim Rogers, Lelo, Kan., about the skid-mounted hunting blind he made by wrapping metal siding around big bale feeder rings sitting on their sides.

"I used siding from a junked mobile home and painted it tan. Openings on either side are covered by burlap sacks on a rod so they can be moved side to side for shooting. The blind is big enough for two grown men and can be quickly moved from place to place with pallet forks.

"It looks like a big round bale of hay from a distance. I was amazed at how well it works," says Rogers.