Wireless Trap Sends Email When It's Tripped
FARM SHOW Magazine
» Wireless Trap Sends Email When It's Tripped
Wireless Trap Sends Email When It's Tripped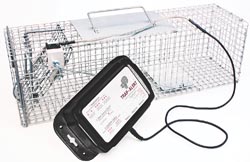 Raccoons and other critters can send messages by email or phone thanks to new wireless trap monitors that notify you whenever a trap is triggered.

Wildlife Control Supplies (WCS) introduced Trap-AlertTM in late 2011. A single module connects up to four traps within 16 ft. that have sensors installed. When an animal (or something else) sets off a trap, and the magnetic connection is broken, a message is sent to a phone, computer or other communication device notifying the trapper that it has been tripped.

"Everyone who tries it loves it. Most professional trappers immediately see how cost effective this product is," says Jarrett Goldstein, manager of customer service for WCS. "It can be used on traps for everything from a mouse to a bear."

Trap-AlertTM sells for $535 for the module and four trap sensors. The required subscription plan with a communications company starts at $39.50/month for 24-months prepaid.

It has all the bells and whistles with GPS to map out the traps, to check the status of your traps anytime, and to check remaining battery power. The rechargeable batteries last 45 to 60 days per charge.