"Truck Tire" Tomato Garden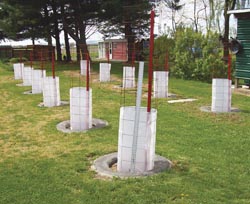 It's the best way to grow tomatoes that I've ever found," says Roman Barvinchack, Greencastle, Penn., who raises 6-ft. tall tomatoes inside big truck tires that he buries in sod.

Barvinchack grows tomatoes, green beans, onions and other crops on 3/4 of an acre. The idea behind his system is to dig a 2-ft. deep hole and replace most of the original heavy clay soil with a mixture that includes sand, compost, horse manure and pulverized limestone. The soil mixture is filled up above the bottom bead of a full-sized truck tire with an inside diameter of 24 in. A 1/2-in. thick layer of crushed stones is added at the bottom of the hole to improve drainage. The tire is used to contain the soil and keep weeds out and water in.

Cages made from concrete reinforcing wire support the tomatoes. The tires are set flush with the ground and spaced about 4 ft. apart, with nothing but grass between them.

"I've been using this system for 3 years and could't be happier with it. My tomatoes get all the water and fertilizer they need, and they're up off the ground so insects and disease problems are minimal," says Barvinchack. "A big advantage is that I can mow right around the truck tires without having to do any trimming or weeding."

In the early spring, the tires heat up during the day and provide warmth at night, says Barvinchack. "I wrap clear plastic around the reinforcing wire about 24 in. high and leave it there until the middle of June or until the tomatoes push out the top."