Slick Way To Burn Roadside Ditches
FARM SHOW Magazine
» Slick Way To Burn Roadside Ditches
Slick Way To Burn Roadside Ditches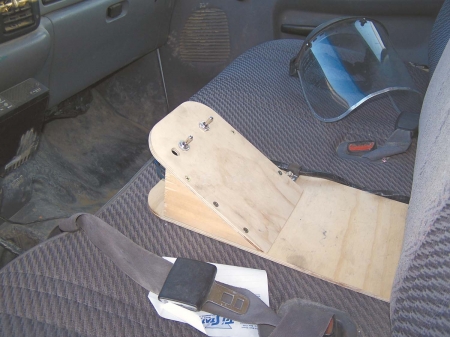 Curt Lamb's weed burner makes burning the sides of irrigation ditches a snap. The pickup-mounted, extendable arm moves the torch from side to side and up and down as needed while Lamb drives down one side of an irrigation ditch and back up the other. All Lamb has to do is extend the arm out from the side of the truck -- as much as 24 ft. -- and light the torch at its end.

"I control it with two heavy-duty toggle switches on the pickup seat next to me," says Lamb. "It makes burning a ditch a one-man operation."

Lamb built the rig while working as a ditch rider for the local irrigation district. It's designed to be moved easily from one truck to another as needed. A steel pipe skid frame holds a 1,000-gal. propane tank and the robotic arm. Lamb fashioned the arm using scrap pipe, a telescoping TV antenna and an automotive wheel rim. Two 12-volt winches rotate it from side to side and up and down.

The antenna sits atop a 2 7/8-in. steel pipe set in a 3-in. steel pipe pivot point. The bottom and outside pipe is about 4 ft. tall and welded to the skid with several reinforcing braces from the skid. The inside and upper pipe extends through and is welded to the center of the wheel rim.

Lamb mounted a winch to a 6-in. wide, 2-ft. long piece of steel that extends out from and is welded to the top of the lower pipe. Cable from the winch wraps around the rim, rotating it and the attached TV antenna when the winch is activated.

"I can rotate the antenna tower 320 degrees from the cab of the truck," says Lamb.

To attach the antenna to the rotating pipe and give him vertical control of the torch arm, Lamb had to hinge the antenna in place. To do so, he welded a 2-ft. piece of pipe perpendicular to the top of the rotating pipe and braced it back to the wheel rim. He welded an angle iron to the end of the pipe and welded a piece of pipe to the angle iron. A steel plate attached to two of the three antenna legs, reinforces the antenna structure. A rod inserted through the pipe and welded at both ends to the plate is the hinge pin.

Lamb mounted the second winch to the end of the antenna. He also mounted a 2-ft. length of pipe parallel to the rotating pipe. It was inserted through and welded to the edge of the wheel rim. A short piece of steel with a hole in one end was welded to the end of the pipe to provide an anchor point for the winch cable.

"When I activate the second winch, it makes the antenna pivot on the hinge and lifts the far end of the antenna up or down," says Lamb.