"Unstuck" Tow System For Tractors, Combines
FARM SHOW Magazine
» "Unstuck" Tow System For Tractors, Combines
"Unstuck" Tow System For Tractors, Combines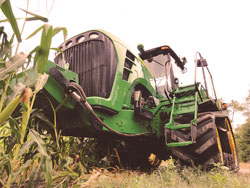 "Pulling out a stuck tractor or combine is a lot easier and safer with our new Easy Out Pulling System. It minimizes the risk of damaging your tractor or combine and gets you out fast," says Ben Brutlag, Brooten, Minn.

A 1 1/4-in. dia. steel cable hangs on a bracket at the front of the tractor. It runs back under the tractor to a heavy 2 3/4-in. dia. pin with a cable pulley that's housed inside a heavy metal bracket bolted onto the tractor's frame. To pull out the stuck tractor, you hook up to the cable on front.
Brutlag also offers a heavy-duty nylon pulling strap as an alternative to the cable. The pulling strap winds up on a reel attached to the tractor's weight bracket. The strap reaches out 35 ft. in front of the tractor.
"It lets you pull from the heaviest and strongest part of the tractor, without having to do any digging out in the mud at the back of the tractor," says Brutlag. "And you don't have to waste time unhooking the implement."

The Easy Out Pulling System is designed for Deere tracked tractors and 4-WD's. It will soon be available for Case IH 4-WD and Magnum tractors.

Brutlag also offers an Easy-Out Pulling System for combines. It uses a pair of 3/4-in. dia. cables that attach to brackets bolted onto either side of the combine's front axle. The cables come together at the back of the combine, where they attach to the combine's factory tow hook.

"The system uses the combine's tow hook but applies the majority of force to the front axle, which allows the combine to be pulled out backward at an angle without the cable interfering with the rear wheels," says Brutlag.