Handy Roll-Up Tarps For Row-Crow Planters
FARM SHOW Magazine
» Handy Roll-Up Tarps For Row-Crow Planters
Handy Roll-Up Tarps For Row-Crow Planters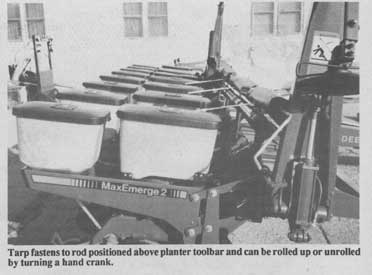 The problem with most canvas-type planter box covers is that they're never there when you need them, says the manufacturer of a new roll-up tarp cover that mounts permanently on your planter.
"Individual box covers are usually stored in a pickup or seed truck. If a storm comes up suddenly during planting, they're never close by. Our roll-up tarp is always there and is much easier to use in a heavy wind," says Colby Canvas Co.
The tarp was invented by an Illinois corn farmer who worked out a deal with Colby to manufacture and market the "Weather Wrap" tarp.
The tarp mounts to a bar positioned above the toolbar. A roll tube slips through a pocket in the end of the tarp and a hand crank fits into the end of the roll tube to roll up or unroll the tarp. The weight of the roll tube keeps the tarp in place when it's unrolled.
The cover is made out of vinyl coated nylon and the hardware is painted steel. Comes complete with all mounting bolts and hardware. Make and model of planter are needed to determine price as well as row spacing of planter. A single cover can be used to cover as many as 6 rows at once. On larger planters, you use more than one cover.

It's designed for Deere, Kinze, White, and other planters with double or single box configuration.