Do-It-Yourself Header Reverser For Deere Combine Heads
FARM SHOW Magazine
» Do-It-Yourself Header Reverser For Deere Combine Heads
Do-It-Yourself Header Reverser For Deere Combine Heads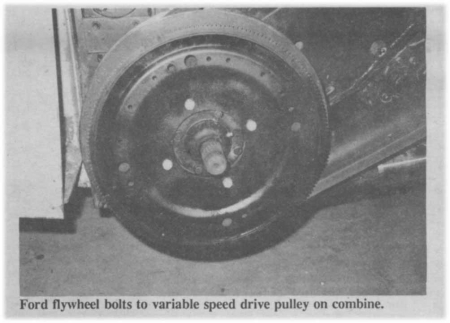 "I built my own header reverser after I miraculously escaped serious injury when my hand got caught in belts while trying to unplug the Deere row head on my Gleaner combine with a stick," says Ron Ball, Menlo, Kan., who adapts the Deere head to his Gleaner with a Bish header adapter built by Harvey Bish, Giltner, Neb.
"It's simple to build and use. The reverser works with both my Deere 843 cornhead and 853A row crop heads. One of the safety features of the reverser is that it can't be activated until the header has been switched off," notes Ball.
The guts of the reverser is a Ford 428 c.i.d. starter motor and a fly-wheel from a 428 Ford engine (Ball notes that a 390 c.i.d. engine fly-wheel would also work.) The fly-wheel bolts to the variable speed drive pulley on the combine. The starter motor mounts on a steel bracket that bolts to the machine in position to drive the fly-wheel. The starter solenoid mounts under the combine ladder platform and a push-button switch goes inside the cab.
Ball has assembled complete instructions, drawings and photos that detail construction.